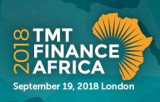 Source: TMT Finance |
Network infrastructure investment and digital transformation top priorities for African telecom operators, says TMT Finance
Topics such as network infrastructure business models, B2B and B2C convergence, M&A, digital transformation and partnerships, are among the key topics to be debated at TMT Finance Africa 2018
Like many telecom operators globally, the major African operators are having to juggle several pressing priorities
LONDON, United Kingdom, June 19, 2018/APO Group/ --
Accelerating digital transformation strategies, investing in new wireless and fixed network infrastructure, and embracing emerging technologies such as AI and IoT are among the top priorities for African telecom operators for the year ahead, according to global telecom, media and technology news and events company, TMT Finance (http://www.TMTfinance.com/africa/programme).
"Like many telecom operators globally, the major African operators are having to juggle several pressing priorities. It is well documented that traditional voice and messaging service revenues are decreasing, while pressure to plough big capex spend into new network infrastructure is weighing on balance sheets," said Ben Nice, Managing Editor and Events Director at TMT Finance.
"Furthermore, what a core telco business model looks like is up for debate, and those at the helm must make crucial decisions on where to place their bets in terms of future earnings and relevant technologies, while also asses how to undergo hugely complex digital transformation projects."
Topics such as network infrastructure business models, B2B and B2C convergence, M&A, digital transformation and partnerships, are among the key topics to be debated at TMT Finance Africa 2018, a leadership conference gathering Africa's key telecom, media and technology senior executives, regulators, private equity firms, investment banks and advisers.
CxOs from Orange, Econet Wireless, IHS Towers and Millicom will join the Future Africa Telco Panel – Leadership strategies for regional growth, which will open the conference. Other Leadership Panel Debates, Visionary Keynote Speeches and Breakout Sessions on topics such as Broadband Leadership, M&A, Enterprise Cloud and Datacentres, Digital Africa, Mobile Payments and Fintech, Regulation and Spectrum, Media and Content and Powering Africa's Mobile Towers, will all also feature at the event.
Over 70 speakers will be announced for TMT Finance Africa 2018, with other companies already confirmed, including: Liquid Telecom, Dark Fibre Africa, IFC World Bank, Standard Bank, Helios Investment Partners, The Carlyle Group, Letshego, Citi, Credit Suisse, Tata Communications Transformation Services (TCTS), Intelsat, Rack Centre, Uber, Jumia, Energy Vision, Investec Asset Management, Ethos Private Equity, Econet Media, RIngier Africa, Nokia, Huawei Global Finance, Rand Merchant Bank, Nedbank, East Africa Data Centre, WorldRemit, TLCom Capital and many more.
To view the agenda, go to http://www.TMTfinance.com/africa/programme
To register to attend, visit http://www.tmtfinance.com/africa/register/
Distributed by APO Group on behalf of TMT Finance.